Coronavirus/SARS-CoV-2 Diagnostics
---
Accurate and timely detection of the Coronavirus / SARS-CoV-2 virus is essential for controlling the current pandemic.
abm has developed both RT-qPCR real time and lateral flow immunological assays for Coronavirus / SARS-CoV-2 IgM/IgG with CE registration. In addition, our RNA isolation kit, swab, and virus storage buffers are the most affordable on the market. Our virus storage buffer not only keeps the Coronavirus / SARS-CoV-2 RNA stable, it also inactivates any viral particles instantly, protecting healthcare workers or laboratory staff from coronavirus infections while handling samples.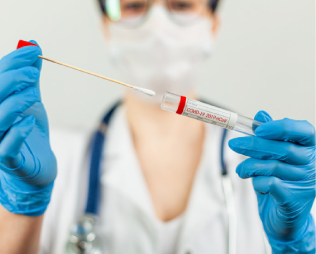 GenomeCoV19 Detection Kit
Detect the COVID-19 SARS-CoV-2 virus from naso/oropharyngeal swabs in only 2 hours using the RT-qPCR method.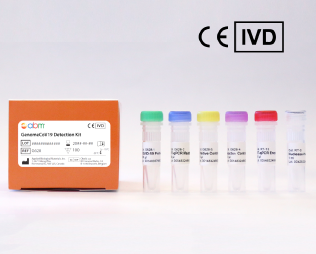 GenomeCoV19 IgM/IgG Test Kit
Detect IgM and IgG antibodies against the SARS-CoV-2 virus in human whole blood, serum, and plasma samples in 15 min or less.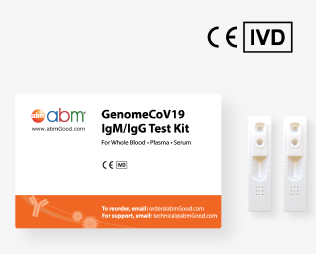 Sample Collection and Viral Transport Solution
Safely preserve and transport infectious biological specimens without the need for dry ice. Our Viral Transport Solution is specially formulated to inhibit bacterial and fungal flora from collected samples.