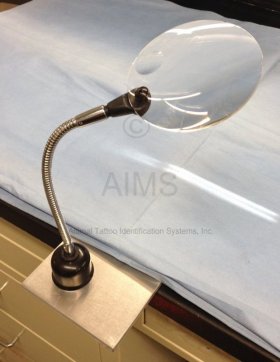 AIMS™ Stereotaxic Magnifier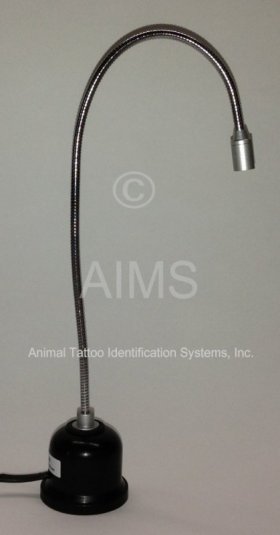 AIMS™ Stereotaxic Light
AIMS™ Stereotaxic Magnifier
Ultra Strong Magnetic Base/Puck System to Anchor Magnifier on Non-Metallic Surfaces.
Attaches Directly to Metallic Surfaces.
Small Base (1 5/8″ dia.)
SMAG                  Stereotaxic Magnifier
Unique magnetic base/puck system holds the lab light firmly on the base in any location.
Ultra Bright LED on 10″ Flex Arm.
Ultra Strong Magnetic Base/Puck System to Anchor Light on Non-Metallic Surfaces.
Attaches Directly to Metallic Surfaces.
Universal Power Supply (110-220 V).
Small Base (1 5/8″ dia.)
LL13
       Stereotaxic Light
LLSW       On/Off Plug Switch
AIMS™ Tattoo Platform Light
No More Tattooing in the DARK!
The tattoo platform light provides direct illumination on the mouse tail allowing for faster and easier tattooing. Easily fits onto the holding platform (#1900). Suitable for right or left handed tattooists.
TPL07
      Tattoo Platform Light (LED, w/DC wall plug, use w/ item # 1900)
1900      AIMS™ Holding Platform w/ retaining screws and tissue oil holder
5010      Tissue Oil Cups, red (3 ml) 100/pk
1000      AIMS™ Humane Mouse Restrainer (3 holes)
Rodent Tattoo System Accessories
| | |
| --- | --- |
|    Catalog # |  Description  |
|    2420 | Standard Perm. Black Pigment 242, (2 oz bottle) Each |
|    2421 | Super Conc. Perm. Black Pigment 242B, (5 ml vial)2/pk |
|    2510 | Perm. Red Pigment, 251 (5 ml vial) 2/pk  |
|    2700 | Perm. Green Pigment, 270 (5 ml vial) 2/pk  |
|    5001 | Micro Pigment Cup, red (0.75 ml) 100/pk  |
|    4010 | Standard Skin Prep., Tissue Oil (8 oz squeeze bottle) 2/pk |
|    5010 | Skin Prep. Holding Cup, red (3 ml) 100/pk  |
|    8490 | Skin Prep. Applicator, Hypoallergenic/Plastic Handle 100/pk |
|    7040 | Tissue/Machine Cleanser Concentrate (16 oz) Each  |
|    7080 | Machine Drying Agent (16 oz) Each  |
|    3005 | Standard Point, Tattoo Needle (3pt), Sterile, Code300 5/pk |
|    3035 | Ultra-Fine Point, Tattoo Needle (3pt), Sterile, Code 303 5/pk |
|    3045 | Heavy-Duty Point, Tattoo Needle (3pt), Sterile, Code 304 5/pk |
|    1000 | Humane Mouse Restrainer (3 holes) |